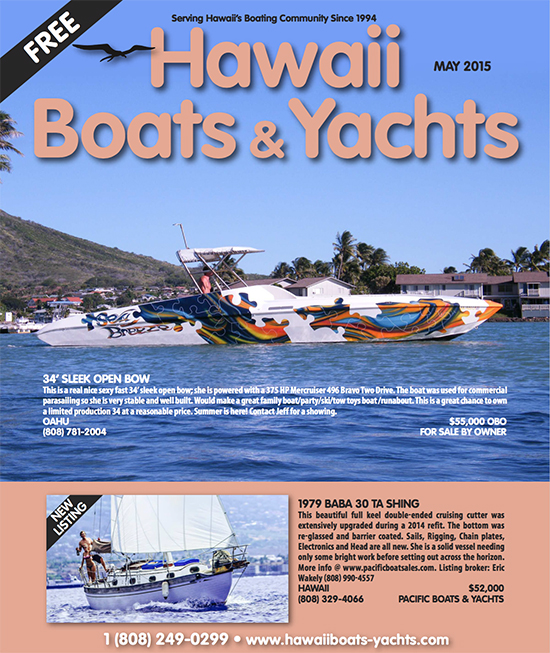 Click here to check out our current issue

New Ads for Sale
Ads that missed the print deadline.
Sold Boats
All the Sold boats by owner and brokers!

HAWAII'S COMPLETE BOATING SOURCE & MARINE DIRECTORY

Now available is the current magazine online version see Boats and Yachts For Sale, HBY Manager's Update, Dock Talk, Sailing and Fishing Feature Pages, Free Classifieds and the Hawaii Marine Directory.
Click below to know more about advertising your boat or yacht and your business, subscribe to HB&Y Magazine, and find out where you can pick up the current issue.
ADVERTISE - Advertise your boats and yachts for sale (FSBO)
ADVERTISE - BUSINESS - Advertise your business
DISTRIBUTION LOCATIONS - List where to pick up your free magazine
EMAIL LIST - Sign up to receive the Hawaii Boats & Yachts online color edition free every month
HAWAII MARINE DIRECTORY - Marine Directory listings in Hawaii Boats & Yachts Magazine
SUBSCRIPTION - Subscribe to the Hawaii Boats & Yachts Magazine

Boats and yachts for sale statewide including Kauai, Oahu, Maui, Molokai, Lanai, Hawaii the Big Island, and the Pacific. Vessels include sail, power, commercial, recreational, pleasure, cruising, speed, charter, work, race, day sailors, cruisers, snorkel, dive, fishing, Excursion, whale/ dolphin watching, luxury, live a boards, monohulls, catamarans, trimarans, sportfishers, Research and USCG certified COI passenger vessels, and more! Also business opportunities including slips, permits, moorings, and licenses.
"Hawaii Boats & Yachts Magazine" and "HB & Y" are registered trademarks of Pacific Publishing, Inc.
Copyright 2015 Pacific Publishing, Inc. All rights reserved